Learn about the Nurses' Health Program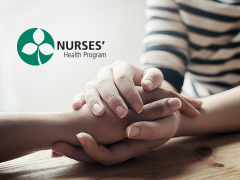 Are you struggling with substance use and/or mental illness? The Nurses' Health Program (NHP) is a free voluntary program for Ontario nurses who are seeking treatment.
RNAO, College of Nurses of Ontario, Ontario Nurses' Association and Registered Practical Nurses Association of Ontario (WeRPN) developed the NHP to provide an effective channel for nurses to receive support to receive and practise nursing safely.
NHP offers a number of specialized programs that recognize your unique needs as a health-care professional and supports you to practice or return to practice nursing safely.
Learn more at nurseshealth.ca.