Federal Election 2021: Nurses vote for a healthy recovery for all Canadians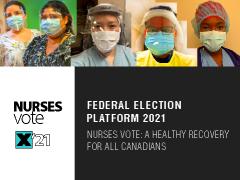 RNAO decries the increasing loss of civility and tolerance in Canadian politics and condemns the threats of violence and the violent demonstrations that have disrupted the normal and necessary processes of a democratic election. RNAO applauds those who put themselves forward for elected office and asks that all Canadians treat candidates with respect and the courtesy owed to those who offer to serve in public office. Thank you to all of the party leaders who join us in condemning the violence and intolerance we have repeatedly witnessed at campaign rallies during this election.
RNAO asks all nurses to vote for health on Sept. 20.
As your professional association, RNAO has outlined four priority areas and 11 recommendations in its policy election platform, A healthy recovery for all Canadians. These priorities matter most if we are to improve health of all. They include: access to health care, social determinants of health, environmental determinants of health and fiscal capacity.
RNAO has asked the leaders of the major federal parties for their views on these priorities and will provide updates on their responses. Over the coming weeks, we urge you to take a moment to ask your candidate whether the issues outlined below matter to them, and what they're proposing to do about them.
Learn more about the priority areas and RNAO's recommendations online. Sign RNAO's Action Alert to call for a healthy recovery for all Canadians.
Exercise your right to vote on Sept. 20 and remember to vote for your health.