Best Practice Champions Virtual Workshops: November 2021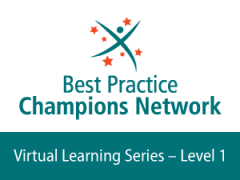 Are you interested in becoming a best practice champion? Now's your chance!
RNAO's Best Practice Champions Network team invites you to its free, two-part workshop happening in November, consisting of a pre-recorded introductory video and two live virtual sessions.
Champions are people who are passionate about using research to improve health care in their workplaces and they:
support the use of best practice guidelines (BPG) and other evidence-based resources to inform clinical practice and decision-making
support, influence the uptake of and advocate for practice changes that lead to improved health outcomes
All members of a team involved in implementing BPGs are encouraged to attend. Mark your calendar and register for the following two sessions:
For more information on the Best Practice Champions Virtual Workshop, visit RNAO's website.