Best Practice Champions Virtual Workshop: Sessions 1 and 2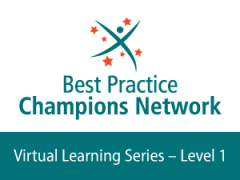 RNAO's Best Practice Champions Network team invites you to the new two-part Best Practice Champions Virtual Workshop.
Participants will receive a certificate of completion after watching the introductory video and attending the two live virtual sessions, which are free of charge. If you've been wanting to learn more about the Best Practice Champions Network, this is your chance.
Session 1 is happening Sept. 22 and Session 2 is on Sept. 29. Both sessions begin at 9 a.m. ET and are three hours.
Similar to the in-person workshop but in a virtual format, participants are introduced to best practice guidelines (BPG) and will learn how to successfully implement them using RNAO's Toolkit: Implementation of Best Practice Guidelines, Second Edition. All team members involved in implementing BPGs are encouraged to attend, including nurses and other health providers, patient and family representatives or other staff.
RNAO best practice champions are people who are passionate about using research evidence to improve health care in their workplaces. They:
support the use of BPGs and other evidence-based resources to inform clinical practice and decision-making
support and influence the uptake of and advocate for practice changes that lead to improved health outcomes
For an outline of this virtual workshop, visit the event page. Be sure to save your spot and register now for both sessions.