Are you #FullyVaccinated?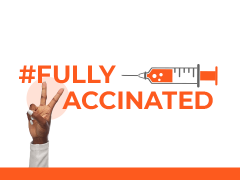 Ontarians have faced some of the toughest obstacles of this pandemic and RNAO has remained determined to alleviating some challenges through its policy work.
In July, RNAO launched its #FullyVaccinated social media campaign to encourage everyone to receive both doses of the COVID-19 vaccine. To take part in the campaign, people are asked to share photos of themselves and their loved ones before, during or after receiving the vaccine and tag @RNAO on Twitter and @registerednurses on Instagram with #FullyVaccinated, as well as their reason for getting vaccinated.
The main goal: to increase the number of fully vaccinated Ontarians so we can come out of this long, relentless pandemic.
To learn more and to download #FullyVaccinated images to share on social media, visit RNAO's COVID-19 portal.
In addition to the #FullyVaccinated campaign, RNAO also called for the Ontario government to mandate COVID-19 vaccination for all health-care workers, especially those working directly with patients. To increase vaccination rates, the provincial government should make it easier and faster for health-care workers to get fully vaccinated by:
bringing vaccinations to workplaces
providing an additional two paid sick days for workers to be vaccinated
Read RNAO's media release for more information. Check out some of the posted tweets so far.