Annual General Meeting is June 24-26: Registration now open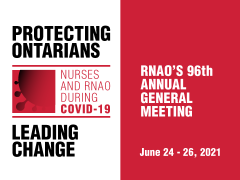 RNAO's theme this year for its 96th Annual General Meeting (AGM) is Protecting Ontarians and Leading Change: Nurses and RNAO during COVID-19.
The theme speaks to the hard work and care nurses are providing day in and day out to Ontarians during this pandemic and the change they are leading by making the province a healthier place for all.
This year, RNAO's AGM was held virtually on June 24-26, 2021.
Our exciting program of events celebrated the incredible efforts of registered nurses, nurse practitioners and nursing students during this most unprecedented past year.
Schedule of events:
June 24, 2021 – opening ceremonies (6 - 7:30 p.m. ET)
June 25, 2021 – virtual exhibiting booths (10 a.m. - 12 p.m. ET), student luncheon (1 - 2 p.m. ET) and AGM (4 - 7 p.m. ET)
June 26, 2021 – interest group meetings, BPG launch and media conference and closing keynote (8:30 a.m. - 1:30 p.m. ET)
The student luncheon, hosted by RNAO's interest group Nursing Students of Ontario, focussed on how students were leaders and change-makers during COVID-19. The Student of Distinction Award was also presented during this portion.
On Saturday, after the interest group meetings in the morning, RNAO released its newest BPG Promoting 2SLGBTQI+ Health Equity and had a media conference for questions. Following the media conference, the closing keynote presentation, entitled Protecting Ontarians and Leading Change: COVID-19 through Nurse Lenses, took place and had a panel discussion made up of different nurses from different sectors and their experience through the pandemic.
View the schedule of events online.