Best Practice Spotlight Organizations (BPSO)
What is a Best Practice Spotlight Organization?
Best Practice Spotlight Organizations (BPSOs) are health-care and academic organizations selected by the Registered Nurses' Association of Ontario (RNAO) through a request for proposals process to implement and evaluate the RNAO's best practice guidelines.
It is a dynamic partnership that focuses on making a positive impact on patient care though evidence-based practice. Requests for proposals are released every three years. The Best Practice Spotlight Organization (BPSO) initiative has been a great success. It provides support to organizations that have formally agreed to implement and evaluate multiple RNAO best practice guidelines over a three (3) year period.
First launched in 2003, the BPSO initiative is an off-shoot of the RNAO's Nursing Best Practice Guideline program which began in November 1999 and has since spread across Canada and to countries around the world.
BPSO Host Model
The RNAO BPSO Host Model is a feature of the national/international BPSO Program. A BPSO Host Organization enters into a formal agreement with RNAO to oversee the RNAO BPSO Program in the country or region where it is located. The BPSO Host is responsible for all aspects of the BPSO Program from selecting the BPSO organizations interested in becoming BPSOs to reporting progress back to RNAO. Generally the BPSO Host acts as the liaison between RNAO and the BPSOs in the specific country or region.
As the service and/or academic organizations become BPSOs, to implement, disseminate and evaluate RNAO Best Practice Guidelines, the BPSO Host provides support by monitoring through regular meetings and reporting processes. The BPSO Host then reports to the RNAO with updates from the BPSOs as well as an overview of successes, challenges, questions and issues of the BPSO Program in that country or region.
RNAO provides support for implementation, through training, access to all available resources such as the draft contract agreement for BPSOs, reporting prototypes, Best Practice Champions Network including the Champion Workshops, the Implementation Toolkit, and Educator's Resource, BPG APPs and other implementation resources. RNAO also engages with the BPSO Host in regular meetings, and offers expert mentorship and consultation on guideline dissemination, implementation, uptake, sustainability and evaluation. Furthermore, the BPSO Host and BPSO in the country or region are paired with mentor organizations, who have experienced the BPSO Program.
myBPSO Reports
A key element of the RNAO's BPSO Evaluation Model is the myBPSO report that each BPSO, whether provincial, national or international, submits twice per year during the pre-designate phase and annually for designate organizations. These reports provide an opportunity for BPSO leads, champions and teams to reflect on their progress towards achieving the BPSO deliverables, and results in a documented story of their evolution as a BPSO. The standardized, online myBPSO template asks questions about organizational demographics as well as key deliverables related to capacity development, implementation, evaluation, dissemination and sustainability planning. The database of qualitative data resulting from the submission of myBPSO reports provides RNAO with a mechanism to analyze qualitative outcomes, and identify areas to continuously strengthen the program. The RNAO BPSO team, including BPSO Coaches and evaluation specialists, review each report and meet with every BPSO individually to provide feedback and linkages to resources to support rapid learning and improvement.
BPSO OHT Model
RNAO has developed a new BPSO model designed to support Ontario Health Teams (OHTs) to achieve the quadruple aim (see below). The goal of the BPSO OHT model is to optimize patient outcomes through evidence-based practice and robust staff engagement. BPSO OHTs are supported by RNAO and organizations throughout the BPSO OHT network to systematically implement evidence-based best practice guidelines (BPGs) across the care continuum. Mandatory guidelines include Person-and Family-Centred Care and Care Transitions. BPSO OHTs select two additional guidelines that meet the needs of priority populations.
Quadruple aim: How the BPSO OHT model helps organizations meet the quadruple aim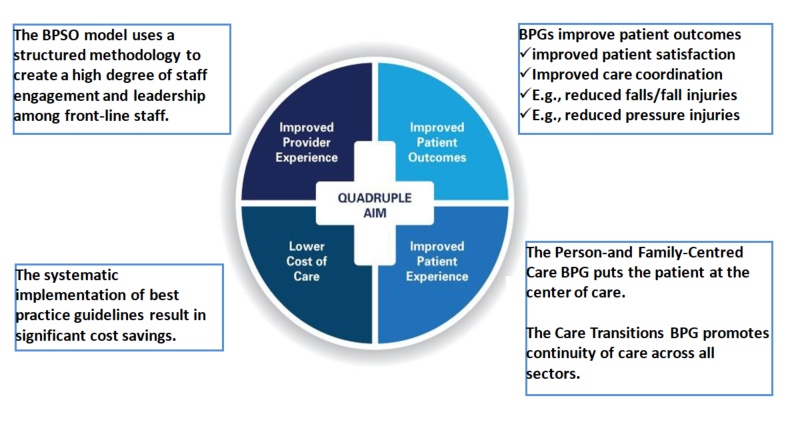 BPSO Organizations
A
B
C
D
E
F
G
H
J
K
L
M
N
O
P
Q
R
S
T
U
V
W
Y