About
Image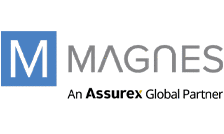 At Magnes, we do things differently. With effort and care, we deliver the very best personalized insurance coverage and risk management advice. We serve businesses and individuals who appreciate quality, precision and value in a way that many other insurance brokerages can't or won't.
Originally founded in 1933, nationally licensed with specialized industry expertise
Partner in the world's largest privately held commercial insurance brokerage group
Contracted with every major insurer in Canada and Lloyd's cover holder in the London marketplace
Image
Roberta Tasson
PARTNER – THE MAGNES GROUP
Roberta Tasson is a Partner specializing in Corporate Insurance and Risk Management at The Magnes Group Inc. Magnes is a long-established national property and casualty brokerage firm, operating in various industry niches, including the Biotech/Life Sciences sector.
With over 25 years of experience in the industry, Roberta joined Magnes nineteen years ago.
She leads the Executive Liability niche within Magnes, which includes professional liability/errors & omissions insurance, directors' & officers' liability insurance, and cyber liability insurance.
Within the professional liability niche, Roberta manages the insurance and risk management placement of two key RNAO membership benefits: RNAO's PLP Program and RNAO's NurseInsure Malpractice and Business Insurance Program. For additional information on these programs please visit https://rnao.ca/connect/benefits