Image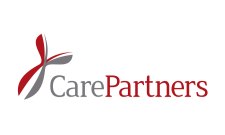 About
Accredited with exemplary standing, CarePartners has grown to be one of the largest and well-established home care service providers in Ontario.
Despite our long history in home health care, we've never been complacent. We constantly innovate with new care models, new testing protocols, virtual care technology and e-health.
We advocate tirelessly for improved home health care services for Ontarians.
We service communities all across Ontario. The majority of our health care services are funded by and arranged through the Home and Community Care Support Services (HCCSS). We offer:
personal support and home support services
rehabilitation services
eHomeCare
virtual care
palliative care
caregiver support
nursing care for patients in homes, schools, retirement homes, clinics, transitional care units and workplaces
medical care and clinics in countries with poor access to health care.
We are rapidly updating our technology to support our nurses, allowing nurses to spend less time with administrative tasks and more time caring.
All scheduling, mileage, care plan, time tracking and notes are handled online, with a company smartphone or device
Our upgraded patient management system gives nurses easier access to information and schedules.
With our virtual care solution (CarePartners Connect), our health care professionals can:
conduct virtual care case conferences
perform assessments and visit patients virtually
send resources to patients
consult with a mentor or specialist virtually.
In addition to learning and training programs, our nurses are supported with the Clinical Research Education team, familiar nurse managers, nursing mentors and leadership support. We also prioritize our employees' safety and personal wellness, with full PPE in hot zones.
Presentation
June 25
| Topic | Time |
| --- | --- |
| Welcome & CarePartners presentation/overview | 9 – 9:30 a.m. |
| Meet some of our nurses | 9:30 – 10 a.m.  |
|  Q & A | 10 - 10:30 a.m. |
|  Welcome & CarePartners presentation/overview | 10:30 - 11 a.m. |
| Meet some of our nurses | 11 - 11:30 a.m. |
| Meet some of our nurses | 11:30 a.m. - noon |