Image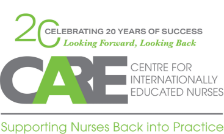 About
2021 marks the 20th anniversary of CARE Centre for Internationally Educated Nurses (IENs). To kick off the celebration of this milestone, we are grateful to the McLean Foundation for its generosity in donating free memberships to the first 100 clients who join CARE Centre this year.
Twenty years ago, CARE Centre was created to address a critical healthcare human resources issue – a nursing shortage amidst the barriers confronting IENs in achieving registration and becoming part of Ontario's healthcare system. Representatives from nursing and community settlement organizations created a roundtable and conducted research through a grant from the Maytree Foundation.
We are grateful for the unfailing support and collaboration of our Board, partner organizations, and our funders, the Province of Ontario and Immigration, Refugees and Citizenship Canada. Since we were founded in 2001, over 5,000 nurses from over 100 countries have benefited from our services. We are blessed with a strong and knowledgeable staff to guide and support our clients throughout their journey of integration.
Since the beginning of the pandemic, we witnessed the tremendous contributions and courage of our member IENs in combating COVID-19. They gave our team even more inspiration and greater meaning to the work we do. We are proud of our member IENs' expertise, commitment, and dedication to the well-being of our community and healthcare system.
In the months to come, we will be hosting a series of free webinars and other programming to celebrate IENs and their supporters. We hope you'll join us! Please visit www.care4nurses.org.
Presentation  
CARE Centre for Internationally Educated Nurses (IENs) Executive Director Dr. Ruth Lee and Pre-Arrival Supports and Services (PASS) Program Coordinator Meghan Wankel will present on Supporting Internationally Educated Nurses' Transition into Professional Practice in the Canadian Healthcare System.  Current conditions for assisting and accelerating IENs' licensing, employment, and integration into the Canadian healthcare system in the face of a severe nursing shortage during and after the COVID-19 pandemic will be discussed.  
Start time: June 25 - 9:30 a.m.
Available: June 25 - 9 a.m. - noon