11:30 a.m- 1 p.m. ET
Jump to:
AGM Day 3 Keynote Presentation - Watch it again
Closing Keynote Celebration
Celebrating the Year of the Nurse: How to Scale Up Our Voice
Join RNAO CEO Doris Grinspun and international nursing leaders Barbara Stilwell and Mary K. Wakefield for the closing keynote, Celebrating the Year of the Nurse: How to Scale Up Our Voice. This session will focus on the history of nursing and set the foundation for the next generation of nurses. We invite RNAO members and members of the public to join us.
Keynote Speakers
Image
Barbara Stilwell PhD, NP, RN, FRCN
Executive Director, Nursing Now
Dr. Stilwell was one of the first nurse practitioners in the UK, and, in 1991, as a principal lecturer at the Institute of Advanced Nursing Education at the Royal College of Nursing (RCN), introduced the first UK-based nurse practitioner programme.
Dr. Stilwell was made a Fellow of the Royal College of Nursing in 1994 in recognition of her work to introduce the nurse practitioner role to the UK. In 2008, Stilwell was named one of the most influential nurses of the past 40 years by the UK's Nursing Times. Dr. Stilwell has worked throughout the world as a champion for health workers and strong health systems. Before joining Nursing Now, she was IntraHealth International's senior director of health workforce solutions and recently served as director of a health workforce and systems strengthening project in the West Bank/Gaza. From 1996–2006, she worked with the World Health Organization (WHO) in health systems development, co-authoring the WHO's 2006 Health Report, collecting and analysing data regarding the impact of migrants on health systems in developing countries.
Image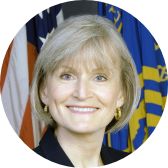 Mary K. Wakefield PhD, RN, FAAN
Distinguished Professor and Former Acting Deputy Secretary, U.S. Department of Health and Human Services (HHS)
Mary K. Wakefield was appointed by President Barack Obama and served for 8 years as the Administrator, Health Resources and Services Administration (HRSA) and Deputy Secretary, U.S. Department of Health and Human Services. She was the first nurse ever to be appointed to these senior executive government positions. As the head of HRSA, her portfolio included leading over 80 programs that serve vulnerable populations, ranging from rural health care delivery to supporting people living with HIV. As Deputy Secretary, her responsibilities included strengthening the Indian Health Service and overseeing the management of all HHS operating divisions. Currently, she is a distinguished Visiting Professor at the University of Texas at Austin and Georgetown University and serves on a number of non-profit health boards and committees.
---