Queen's Park on The Road puts health care front and centre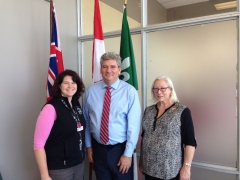 Thanks to your dedication and participation, RNAO scheduled 48 meetings between MPPs, RNs, NPs and nursing students this fall to talk about improving health care, increasing access to nursing services and enhancing the social and environmental determinants of health.
For this year's Queen's Park on the Road (QPOR), nurses met with MPPs from all political parties such as Parliamentary Assistant to the Minister of Health and Long-Term Care John Fraser, Progressive Conservative Labour Critic Ted Arnott and NDP Health Critic Frances Gelinas.
Members spoke out on important issues including supporting regulatory changes to authorize NPs and RNs to work to their full scope of practice, the creation of a national pharmacare program, and improved access to supervised injection services.
To see photos of QPOR 2016, please visit RNAO's QPOR gallery.