Will you take a stand to stop LGBT bullying?
"Everyone has the right to be respected and the responsibility to respect others" - bullying.org
The Registered Nurses' Association of Ontario is a member of the Ontario Gay-Straight Alliance (GSA) Coalition and supports efforts to stop LGBT bullying NOW!
What: A rally in Support of Gay-Straight Alliances and Bill 13/14
When: Saturday, May 12, 2012 1:00 pm
Where: Queen's Park
Why: Verbal and physical bullying of students due to discrimination linked to sexual orientation and/or sexual identity creates unsafe spaces that cause physical and mental health injuries, including suicide. Students from schools with GSAs find their school communities to be less homophobic and more supportive of all students. Come show your support for anti-bullying legislation currently under consideration as Bill 13/14. Let every student know that their nurses stand with them against discrimination.
Join us in anticipation of the International Day Against Homophobia that is marked each year on May 17th.
Together, we can help achieve our mission as a professional association, and our position statement on respecting sexual orientation and gender identity.
We are delighted to join forces with the Rainbow Nursing Interest Group to help influence positive change.
We are planning to do a submission on Bill 13 and Bill 14 to the Standing Committee on Social Policy. If there are any special points that need to be brought forward from your point of view, your expertise would be welcome.
Check out a photo gallery from the rally.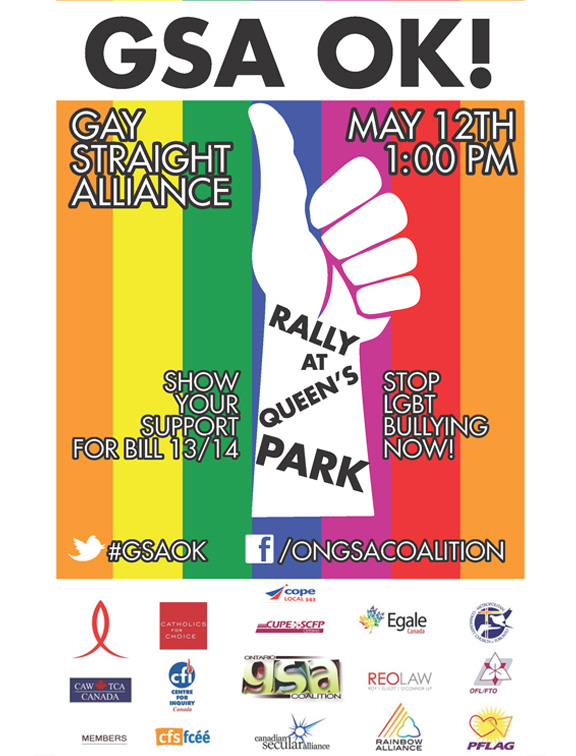 Saturday, May 12, 2012 - A rally in Support of Gay-Straight Alliances and Bill 13/14