Update - Bill C-36, Protecting Canada's Seniors Act
On December 6, 2012, RNAO CEO Doris Grinspun offered a presentation to the Senate Committee of Legal and Constitutional Affairs regarding Bill C-36 on the importance of continuing to work on the prevention of elder abuse and neglect. If Bill C-36 is passed, the criminal code will be amended to show that "vulnerability due to age" would be a factor for judges to consider when sentencing individuals guilty of committing abuse against seniors.
Grinspun brought powerful, compelling words on behalf of Josie Santos, RN and RNAO's expert lead on the Elder Abuse project.
Watch Doris Grinspun, and other qualified individuals, deliver presentations to the Committee. (Note: Grinspun starts at approximately 33 minutes)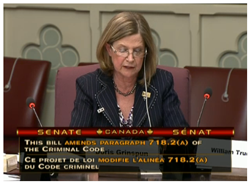 Get the speaking notes from this presentation.
See the initial funding announcement for the development of a Best Practice Guideline (BPG) on elder abuse.
Get more information on The Prevention of Elder Abuse Centres of Excellence (PEACE) Project.
UPDATE: Bill C-36 received royal assent on December 14.