Third-edition Assessment and Management of Pain BPG has been released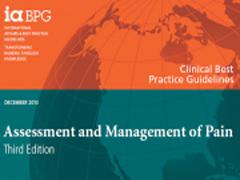 Health care-professionals have a brand new resource for pain management and treatment. RNAO has released the third edition of its Assessment and Management of Pain Best Practice Guideline (BPG).
The guideline highlights skills and practices to assess and manage pain, regardless of its type or origin. Pain management requires a multidimensional, interprofessional team approach focusing on the psychosocial, spiritual and cultural needs of the person.
Nurses are in a unique position to help people appropriately manage their pain. This means nurses must be adept at interviewing techniques, physical assessment and management of pain in all populations. The BPG covers screening, assessments, pain-management strategies, and exploring misconceptions about pain.
Check out the new guideline online or purchase hard copies.