Sudbury chapter urges action on minimum wage, falling RN-to-population ratio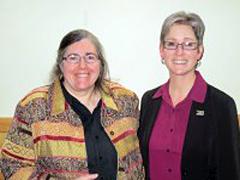 RNAO's advocacy for a higher minimum wage and a reversal of Ontario's falling RN-to-population ratio has swept across the province. RNAO Senior Policy Analyst Dr. Lynn Anne Mulrooney attended the Sudbury and District Chapter's Annual General Meeting (AGM) on Jan. 29, where members had a lively discussion about the health implications of these two important policy issues.
In January, RNAO released an action alert asking Premier Kathleen Wynne to invest in RNs and raise the minimum wage to $14 per hour in the upcoming provincial budget.
At the Sudbury AGM, themed Political Leadership and Political Action, chapter members gave compelling examples of how both issues were harming health and access to health care in their community, and reinforced the need for ongoing advocacy with politicians, the media and the public.
Ontario's minimum wage has been stagnant since 2010, while the province now has the second-worst RN-to-population ratio in the country, ahead of only British Columbia. About 6,500 people have signed RNAO's action alert. If you haven't already, please sign it now, and encourage your friends, neighbours and family members to do the same.