Special offer: RNs and NPs can join RNAO now for $100, new grads get FREE membership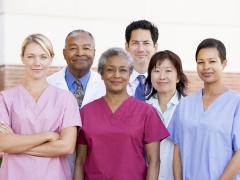 For a limited time, RNs and NPs who are not yet members can join RNAO for only $100 instead of the regular fee of $256, and new nursing graduates* can join for FREE!
When non-members join RNAO, they fulfill the professional liability protection (PLP) requirement from the College of Nurses of Ontario (CNO) and enjoy membership benefits such as career counselling services, up to 40 per cent off educational and professional development workshops, and opportunities to network with nurses from across Ontario.
Join RNAO at the discounted rate now!
By becoming a member, RNs and NPs also become part of the process to shape important nursing, health-care and health issues such as stopping RN replacement, improving compensation for NPs, and ensuring we save lives by supporting supervised injection services. Members can read about how RNAO is shaping the present and future of health, health care and nursing in Ontario by reading our monthly newsletter In the Loop and our award-winning magazine Registered Nurse Journal.
Do you know an RN or an NP who isn't a member of RNAO? Let them know they can take advantage of this special offer by registering online or calling our membership department at 1-800-268-7199. Encouraging others to join will also earn you RNAO rewards when non-members list your name under "recruiter" on the application form. Spread the word and tell them to join today.
*Those who have graduated from an undergraduate nursing program, leading to initial "RN" registration with the College of Nurses of Ontario (CNO), within the past twelve (12) months or plan to graduate in the spring of 2017.