RNs take centre stage during Nursing Week 2014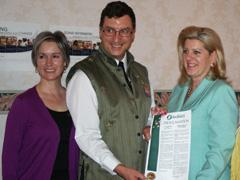 To all the amazing nurses and nursing students in Ontario: thanks for the vital work you do every day! During National Nursing Week 2014, the spotlight shone on RNs, NPs and BScN students who work and study hard to keep people healthy and to care for them when they are very sick or dying.
Nurses across Ontario celebrated the occasion in a variety of ways. A number of RNAO regions had Nursing Week officially proclaimed in their municipalities, RNAO members invited politicians to join them at work for the 14th year in a row to get a closer look at the health system, three Best Practice Spotlight Organizations® (BPSO) showed off the benefits of evidence-based practice, a new BPG was launched, and nurses – including new grads, newcomers to Canada, and nursing students – got a glimpse of career opportunities and on-site resume tips at the Career Expo. We were pleased to have a visit from Ontario Premier and Liberal leader Kathleen Wynne who announced that, if reelected, she would expand the scope of practice of RNs to include prescribing certain drugs, and the scope of NPs to be able to order MRIs and CT Scans.
Like RNAO on Facebook to see more photos from Nursing Week events.