RNs to new legislature: Ontario needs $14 minimum wage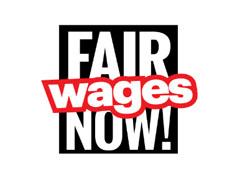 The dust has settled from the provincial election, and now it's time to focus on the issues. When Ontario's legislature reconvenes July 2, MPPs need to make raising the minimum wage to $14 a priority.
RNAO and a coalition of professionals from various sectors are asking the province to help lift Ontarians out of poverty by raising the minimum wage to $14. On June 18, representatives from the coalition delivered a 40-foot petition with thousands of signatures to the office of the Minister of Labour.
"Nurses see the toll that poverty has on people's health," says RNAO CEO Doris Grinspun. "That's why we're calling on the new government to help workers struggling to make ends meet by committing to a more livable minimum wage of $14 per hour."
While Premier Kathleen Wynne's government upped the rate to $11 earlier this year, that still leaves minimum wage earners 16 per cent below the poverty line. During her campaign, Premier Wynne promised to create good jobs and leave no one behind. Now, it's time for action.
For more information about the campaign, check out www.raisetheminimumwage.ca or @fairwagesnow on Twitter.