RNs engage with politicians as provincial election approaches: please vote on June 12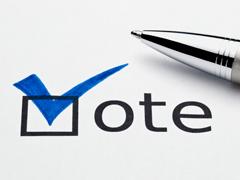 Ontario's election campaign is in full swing, and registered nurses, NPs and BScN students across the province are making sure nursing, health, and health care imperatives are front and centre when people head to the polls June 12.
Dozens of candidates from all four political parties are getting a first-hand look at the province's health-care needs by visiting with our members across multiple health sectors throughout the province. Check out a photo gallery from some of these visits.
RNAO is also engaging politicians by asking the four party leaders to answer 13 key questions that must be addressed to strengthen the health of Ontarians. Their answers are being posted on RNAO.ca on a first-come, first-served basis. RNAO is also posting and analyzing the platforms of all four parties as they are released.
Several all-candidates meetings are being organized by our local chapters. To see if one is taking place in your community, please visit our election page. Should you want to organize a session, contact Shelly Martel.
Stay tuned for more political action from RNAO –- your professional association is a strong and well-informed voice. Be sure to check our election page to stay up to date and fully engaged, make an informed choice, and vote.