RNs engage with political leaders at Queen's Park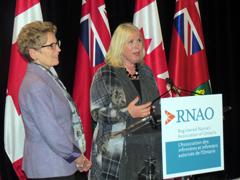 About 130 RNs and nursing students took their voices directly to the Ontario legislature as RNAO once again visited Queen's Park. The 14th edition of RNAO's Day at Queen's Park event was held Feb. 27, 2014, bringing nurses from across the province face-to-face with policy makers.
Nurses delivered messages about hiring more RNs, raising the minimum wage to $14, and more at a breakfast meeting with dozens of MPPs. RNs then toured the Queen's Park building and saw their legislators in action while sitting in on Question Period.
The day also included speeches from the leaders of all three political parties, the Minister of Heath, and health critics for the PC and NDP parties. Minister Deb Matthews made a special announcement about a provincial initiative to add 75 more nurse practitioners to long-term care homes.
RNs also heard PC and NDP health critics Christine Elliott and France Gelinas both call for reviews of Ontario's Community Care Access Centres (CCAC), which RNAO has said are expensive and inefficient.
Thanks to RNAO's dedicated membership for making the trip and helping make the 14th Day at Queen's Park a success.