RNAO's One Member, One Vote opens April 15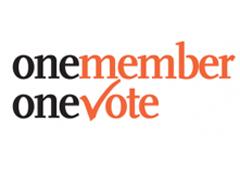 For the second year in a row, each and every RNAO member will have the chance to shape the future of our professional association through the One Member, One Vote system.
Voting opens April 15, and will take place online. Members can cast their vote on an important governance issue regarding RNAO fees, new members of RNAO's board of directors and board committees, an amendment to bylaws regarding members calling special meetings, and the approval of RNAO auditors for the fiscal year end 2014. Leading up to the vote, we will be holding a series of informational webinars to ensure members are informed and empowered.
RNAO's board of directors recently passed a resolution which calls for the association's fee to decrease, given that CNA fees will become voluntary and charged on top of the RNAO fee starting in November 2014. RNAO members are being asked to approve the RNAO fee decrease. You can read the resolution here, and get more information by signing up for the following webinars:
Webinars on RNAO fee decrease resolution
Members will also have a chance to meet their board of directors and committee nominees, and ask them questions in three webinars chaired by former RNAO president, David McNeil. These webinars will be held as follows:
Webinars on voting for new members of RNAO's board of directors and board committees
Click on any of the webinar dates to register. You will be notified 48 hours prior to the date and time of the webinar, with specific login directions. Email info@rnao.ca with any questions.
Also up for voting is a proposed amendment to the bylaws regarding when and how special meetings can be requested by members. Members will also determine whether to approve the appointment of KPMG as RNAO auditors for the fiscal year ending 2014.