RNAO welcomes five long-term care organizations to BPSO program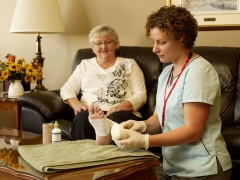 A new cohort of Best Practice Spotlight Organizations (BPSO) have begun implementing evidence-based practice in their workplaces. On April 6, RNAO welcomed five long-term care (LTC) organizations as BPSO pre-designates at a launch in Toronto.
RNAO's newest LTC-BPSO pre-designates are located across the province, and represent seven LTC homes:
Bruce County – Brucelea Haven and Gateway Haven
Fiddick's Nursing Home
Holland Christian Homes – Grace Manor and Faith Manor
Markhaven Home for Seniors
Nipigon District Memorial Hospital - Elderly Capital Assistance Program
These organizations selected best practice guidelines (BPG) they believe will have the greatest impact on the health and well-being of their residents. During the three-year partnership, each organization will implement several guidelines, identify ways to sustain their implementation, and evaluate their impact on resident and organizational outcomes.
In addition to a brand new cohort, RNAO will celebrate the graduation of its first group of LTC-BPSO designates at RNAO's 92nd annual general meeting. Since 2014, these organizations have been implementing and evaluating RNAO's BPGs to improve resident, staff and administrative outcomes.
The new LTC-BPSO designates are:
Parkview Manor Health Care Centre
Region of Peel – Sheridan Villa, Davis Centre, Malton Village, Peel Manor, Tall Pines
St. Peter's Residence at Chedoke
Congratulations to our LTC-BPSO graduates and our new LTC-BPSO pre-designates for taking on this ambitious and rewarding opportunity.