RNAO supports humanitarian effort to provide care for Gaza children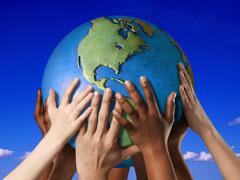 RNAO has joined other prominent health organizations, including the Ontario government, in supporting a humanitarian effort to provide care for Gaza children suffering from war-related wounds.
RNAO was approached by Palestinian physician and humanitarian Dr. Izzeldin Abuelaish, asking for nurses to support his effort to bring 100 gravely wounded children from Gaza to Ontario for care.
Dr. Abuelaish – known colloquially as "The Gaza Doctor" – is founder of the Daughters for Life Foundation, an organization that aims to foster peace in the Middle East by empowering and educating young women. He was also personally affected by the ongoing conflict, and his heartbreaking yet inspiring story can be read here.
RNAO's Board of Directors considered the request and voted in favour of joining this particular humanitarian cause for the following reasons:
It is a formal and credible request that came to RNAO
It is strictly humanitarian and apolitical, and
It involves the Ontario health system
Earlier this month, Ontario Minister of Health Eric Hoskins announced the ministry's support for this effort, while at least five hospitals have offered their services, including Toronto's Hospital for Sick Children, the Children's Hospital of Eastern Ontario in Ottawa and others.
For those concerned about how this decision relates to RNAO's strong opposition to medical tourism, please note that these are two very different issues. As you know, RNAO is opposed to medical tourism in Ontario and Canada. However, RNAO has never opposed humanitarian assistance by our health system and this difference is critically important.
The federal government has yet to support this humanitarian mission, which is essential as entrance visas are issued at the federal level.