RNAO's strong voice heard at Queen's Park on Feb. 23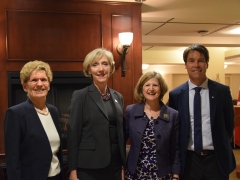 Marking RNAO's 17th Queen's Park Day, 115 registered nurses (RNs), nurse practitioners (NPs), and nursing students met with 55 MPPs to talk about important nursing, health and health-care issues and solutions to improve access to care.
During the morning discussions at Queen's Park, nurses spoke with political leaders including Premier Kathleen Wynne and Health Minister Eric Hoskins about the following topics:
-fully utilizing RNs
-fully utilizing NPs
-health system transformation
-offloading devices for diabetics
-supervised injection services
-pharmacare
-social determinants of health
-environmental determinants of health
Members also heard directly from our first patient ombudsman, opposition party leaders, and the opposition health critics regarding their views on nursing, health care and the social and environmental determinants of health.
During the afternoon session, Health Minister Hoskins said he will soon bring forward amendments to the Nursing Act that will allow RNs to prescribe medications independently and communicate diagnosis. He also said the regulatory changes needed to allow NPs to prescribe controlled substances are coming soon.
Expanding the scope of practice for RNs and NPs has been a longtime priority for RNAO because it will lead to timelier access to health services and lead to a more effective and efficient health system.
The minister also announced his intention to locate care coordinators in primary care and fund offloading devices to prevent amputations for persons with diabetes and foot ulcers.
To learn more about the government's announcements on Queen's Park day, please read our media release.
To find out more about the issues we spoke out on, please read our Queen's Park Day backgrounders.