RNAO speaks out for healthier transit in GTA and Hamilton area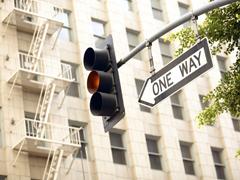 Healthy transit is crucial to a healthy population. Since September 2013, RNAO has been a core member of Move the GTHA, a coalition of over 30 organizations promoting transit and active transportation in the Greater Toronto and Hamilton Area (GTHA).
Bringing together health, community, environmental and business groups, Move the GTHA is concerned with the huge social, environmental and economic costs that transportation gridlock imposes on the region. They share a common platform calling for new dedicated revenue sources to solve the problem.
On Nov. 13, 2013, Move the GTHA representatives met with the provincial transit panel chaired by Ryerson University's Anne Golden. The 13-member panel was charged investigating how to fund transit expansion across the area. RNAO Senior Economist Kim Jarvi presented at the meeting, asking the panel to augment service improvement funding with a special kick-start fund. The panel's final recommendations, released in December, included a $300 million kick-start fund to ensure sufficient service improvement at the start of the infrastructure program, fitting with the coalition's recommendations.
For more information, read the panel's full report, or visit the Move the GTHA website.