RNAO responds to Bill 41, Patients First Act: Sign action alert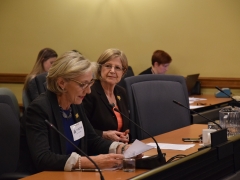 Nurses are often the eyes and ears of the system and know what's working and what improvements are needed.
Leading the profession's voice when it comes to health system transformation, RNAO stood before the Standing Committee on the Legislative Assembly on Nov. 23 regarding Bill 41, the government's Patients First legislation.
At Queen's Park, RNAO's CEO Doris Grinspun and President Carol Timmings shared the association's concerns with the bill, noting the legislation currently falls short of the promise for real health system transformation.
During their presentation, Grinspun and Timmings outlined the following recommendations:
Amend section 1(3) to include all of primary care, public health units, home health-care and support service providers as health service providers (HSP).
Remove all provisions that would position LHINs as delivering and/or managing health service delivery. Instead, focus the scope of LHINs on whole system planning, integration, funding allocation, monitoring and accountability functions.
Eliminate CCACs and produce true health system transformation by preventing the automatic transfer of all CCAC functions, processes and resources to the LHINs. Instead, efforts must be made to transform the funding model in the community away from fee-for-service and tighten the link between home health care and primary care. One way to achieve that is by locating the 4,100 RNs who currently work as care co-ordinators in CCACs in primary care organizations, and employed by the LHINs.
Ensure a tripartite leadership in all LHINS with medicine, nursing and one additional regulated health professional.
To add your support to our recommendations, please sign our action alert
Grinspun and Timmings told members of the committee these changes are essential if the government wants Ontarians to notice improvements in their health care.
To read the rest of RNAO's recommendations, please read our media release, speaking notes and full submission.