RNAO releases vision for health and nursing in Ontario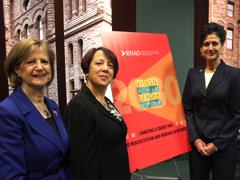 Just in time for elections, and to ensure we continue to strengthen our health system and the role of nurses in the immediate and long-term future, RNAO released a bold vision: Charting a course for the health system and nursing in Ontario.
RNAO's vision was launched at an April 30 press conference at Queen's Park, and includes an interactive website and two documents – one aimed at the general public and the other aimed at politicians, health professionals and other policy-makers.
The changes we propose look at every aspect of the health system, including where, how and by whom health services should be delivered. The vision emphasizes a shift from our current model focused largely on illness care to one where health promotion, disease prevention and management of chronic conditions are given much greater attention so people can remain vibrant members of our communities.
All sectors of the health system are being discussed, starting with public health and moving into primary care, hospital care, home health and rehab, complex care and long-term care. All sectors will play a major role as the system is recalibrated to strengthen community care. For this to happen, we have a series of recommendations, including an expanded scope practice for RNs, a higher utilization of NPs, evidence-based policies and practices, pharmacare, and an emphasis on interprofessionl care and strengthening our publicly funded and not-for-profit health system. We invite you to take a look and please let us know what you think.