RNAO Releases 2013 Platform - Why Your Health Matters
People consistently rank health care as a top priority. Nurses know this.
We want to kick start a conversation about its future by issuing a challenge to all political parties. The platform, Why Your Health Matters is a call to action to leaders of the political parties to collaborate and focus their work on matters that will improve the health of people and build an even stronger Ontario.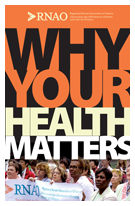 RNAO believes we need to take a hard look at what we do right, and the issues we need to fix in our health-care system.
Our system needs to better reflect the needs of the patient.
Nurses believe there must be a greater emphasis on health promotion and disease prevention. We also want people to be active participants in their care.
This platform highlights key changes that are necessary to ensure that every person in Ontario gets faster access to quality primary care and home care services for those who need it.
Get the full Why Your Health Matters platform now.
See the media advisory.
See the press release.
See clips from the press conference at Queen's Park.
A challenge to all political parties