RNAO joins in record-breaking Pride Parade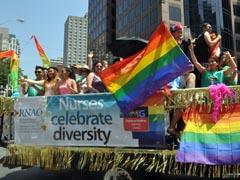 The streets of Toronto shone with rainbow colours from June 20—29 as the city celebrated its biggest Pride Week ever.
Toronto was chosen as host for the fourth-ever WorldPride event, and the city responded with 10 days of festivities honouring diversity, inclusion and equal rights. To cap off the event, RNAO members joined a record 12,000 marchers in the June 29 Pride Parade.
This is the eighth year RNAO and the Rainbow Nursing Interest Group (RNIG) have taken part in the parade, and their first year with their own float. Under the theme "Nurses Celebrate Diversity," RNs, NPs, and nursing students marched and danced their way down Bloor and Yonge Streets to showing their enthusiasm and support for LGBTTIQQ2SA (lesbian, gay, bisexual, transsexual, transgender, queer/questioning, 2 spirited, allies) communities.
Visit our Facebook page for a photo gallery from the parade.
Organizers are calling WorldPride 2014 Toronto's biggest Pride Week event ever. Ontario's nurses were honoured to be part of this historic event, and to continue their long-standing tradition of encouraging healthy communities through equity and respect.
RNAO members are also taking part in Pride events across the province being held throughout the summer.