RNAO honours the fallen at Remembrance Day ceremony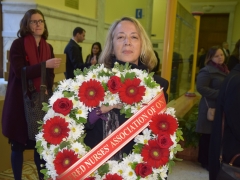 Remembering the sacrifices made by Canadian men, women and their families, RNAO paid its respects to the fallen on Nov. 11 at a Remembrance Day ceremony in Toronto.
Along with veterans, members of the public and community leaders, RNAO's board member Rhonda Seidman-Carlson observed two minutes of silence before laying a wreath on behalf of RNAO.
To all the nurses who served during various conflicts and wars and who continue to serve now, we thank you for your hard work and dedication to our country.
To read about a 97-year-old former army nurse who severed in England and France in 1944-45, please read this Toronto Sun article.