RNAO at budget consultation: remember commitments to Ontario's health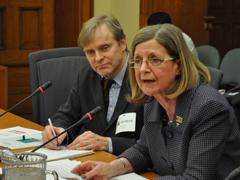 Ontario's forthcoming budget needs to reflect the government's commitments to health instead of austerity measures, RNAO told provincial leaders during a pre-budget consultation.
RNAO chief executive officer Doris Grinspun and senior economist Kim Jarvi appeared before the Standing Committee on Finance and Economic Affairs Jan. 16 at Queen's Park. They asked that Ontario's 2014 budget leave austerity behind, and uphold the province's pledges to hire more RNs, improve access to health care, and take action to reduce poverty.
RNAO recommended a balanced budgetary approach, which addresses the fiscal deficit as well as social, health and environmental deficits in Ontario.
Among RNAO's recommendations are an immediate increase of Ontario's minimum wage to $14 per hour, improved access to affordable housing, and social assistance that reflects the cost of living.
"Poor people live in less healthy circumstances and face greater stresses," Grinspun said. "As a result, they suffer higher rates of ill-health and early onset of chronic disease, and they die much earlier. We are all the poorer for this needless suffering."
RNAO is also recommending that the government focus on RN retention and recruitment to begin closing the gap between Ontario and the rest of the country of about 17,600 RNs. This will increase access to health care and reverse Ontario's falling RN-to-population ratio, which is currently second-worst in the country. RNAO also renewed its call for 70 per cent full-time employment for all nurses to ensure continuity of care and caregiver. In addition, the association is urging government to integrate NPs in all LTC Homes to improve the care residents receive, and decrease transfers to emergency departments.
Grinspun also reminded the committee of the Premier's announcement at RNAO's 2013 AGM, to work with RNAO and CNO to expand the scope of practice of RNs to areas such as diagnosing and prescribing -- both of which will enhance timely access to health services.
Read RNAO's full submission to the Standing Committee on Finance and Economic Affairs. RNAO also issued a media release, calling on the provincial government to consider Ontario's health along with its bottom line.
The committee is holding consultations until Feb. 28 and the budget will be released in the spring.