Registration now open for 2017 AGM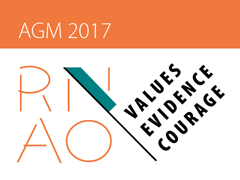 Find out what your association is doing for you at this year's Annual General Meeting (AGM) on April 27 - 29 at the Hilton Toronto.
Celebrating the theme Values, Evidence and Courage, nurses from every facet of our health system will come together to recognize this year's achievements and welcome RNAO's next president-elect.
Nurses will also be recognized for their contributions to the nursing profession in research, administration, policy/political action, education and clinical practice. Representatives from each political party will be joining us as well as Premier Kathleen Wynne.
The three-day event kicks off with the opening ceremonies and stakeholder reception on Thursday, April 27, followed by the AGM on Friday, April 28 and closes on Saturday, April 29, with a keynote panel chosen by members and entitled "Assisted dying: How does the new law affect your practice?".
You can register online to join us for this nursing celebration.