Queen Elizabeth II Diamond Jubilee Medal
A new commemorative medal was created to mark the 2012 celebrations of the 60th anniversary of Her Majesty Queen Elizabeth II's accession to the Throne as Queen of Canada.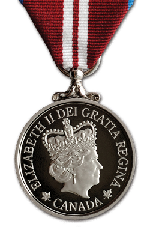 The Canadian Nurses Association was granted 30 medals to distribute, to recognize outstanding nurses, and RNAO was allocated five of these medals. Following are the names of the five winners. RNAO would like to thank all those who were nominated for this honour. You are all worthy candidates.
Medal Winners:
Theresa Agnew
Leah Jamnicky
M. Patrice Lindsay
Josephine Santos
Ruth Walden
Other Nominees:
Michelle Acorn
Patricia Bailey
Jean Benton
Ariel Beaudoin
Veronique Boscart
Jannine Bowen
Tracey Bradford
Sue Calabrese
Suzanne Coffey
Marilyn Daniel-Awong
Gail Donner
Tannice Fletcher-Stackhouse
Mary Glavassevich
Jacqueline Goodban
Alyssa Hamilton
Cindy A. Harper
Sarla Hegde
Lesley Hirst
Janice (Jan) Lee Johnston
Wilma (Willi) Kirenko
Cheryl Kowal
Maxine T. Lesage
Monique Lloyd
Sheila MacDonald
Elyse Maindonald
Katherine McGilton
Kathleen Mitson
Jane Mosley
Beatrice Osome
Sherry Pelletier
Jovette Pinet
Ann Pottinger
Alice Price
Valerie Rzepka
Carol Seaby
Tiziana Silveri
Paul Edward Sims
Janice Lynne Spivey
Bonnie Stevens
Krista Swan
Doris Tretter
Nancy Watters