Photos and videos: 17th Queen's Park Day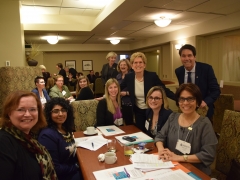 Were you unable to attend this year's Queen's Park Day?
Photos of the day are now available on RNAO's Facebook page. In addition, videos of the speeches given by Health Minister Eric Hoskins, PC Leader Patrick Brown, and NDP leader Andrea Horwath are on our YouTube page.
Tag your friends in the photos and see how RNAO is making a difference in nursing and health care.
To read the wrap-up, please see our announcement/update.