Ontario votes: RNs play pivotal role in provincial election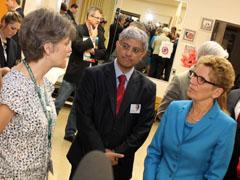 Ontarians cast their ballots, and Kathleen Wynne remains the province's premier after her Liberal Party won enough seats to form a majority government. In the June 12 provincial election, the Liberals won 58 seats, while Tim Hudak's PCs won 28 seats, and Andrea Horwath's NDP took 21 seats.
At RNAO, we look forward to continuing our work with Premier Wynne and all parties to improve health and health care in Ontario. CEO Doris Grinspun was invited to the June 24 swearing-in ceremony, where she thanked outgoing Minister of Health Deb Matthews for all her hard work, and congratulated new Minister of Health Eric Hoskins.
Throughout the campaign, our politically active membership of RNs, NPs and nursing students engaged with politicians to ensure that health care was at the top of the agenda.
RNAO continued its springtime tradition of inviting politicians to go to work with RNs to get a closer look at the needs and challenges of Ontario's health system. Instead of Take Your MPP to Work, the event was re-branded Take Your Politician to Work so that candidates from all parties could take part in the lead up to the election. More than 50 politicians participated in the initiative, and several local RNAO chapters held all-candidates meetings where local and provincial health-care issues were discussed.
To ensure an informed electorate, we provided an extensive platform comparison between the four major political parties on our website, and posed 13 crucial health questions to the leaders of each party, posting their responses online. Our political initiatives received excellent media coverage, helping to put health and health care front and centre when Ontarians went to the polls.
Thank you to our dedicated membership for staying active and engaged in the democratic process.