Ontario needs more RNs and a $14 minimum wage in upcoming budget: respond to action alert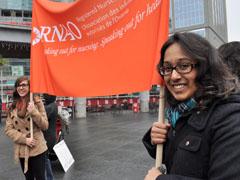 Over the past several months, nurses have been mobilizing to urge the political government to retain and hire more RNs and raise the minimum wage to $14 per hour. Nearly 7,000 people have signed RNAO's action alerts, and with the provincial budget due out shortly, we need to keep speaking out.
The minimum wage in Ontario has been stuck at $10.25 an hour since 2010. In January, Premier Kathleen Wynne announced the Liberal government would raise the minimum wage to $11 this year, and index it to the rate of inflation. This will still leave many Ontarians in poverty, so the province needs to act now on behalf of its 534,000 minimum wage workers.
Ontario's RN-to-population ratio has dropped to second-worst in the country, and more RNs are needed to ensure the best quality care for Ontarians. The province now needs 17,588 more RNs just to catch up to the rest of the country, so the government must commit to hiring more RNs in its upcoming budget.
Help us send the message to political leaders by signing our action alert if you haven't already, and tell your friends and colleagues to sign as well.