Nursing students discuss global issues affecting women and children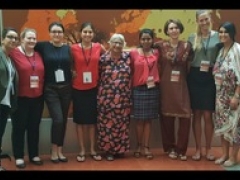 The World Health Organization estimates that 1,600 women and more than 10,000 newborns die from preventable complications during pregnancy and childbirth daily, with more than 90 per cent of these deaths occurring in the developing world. This statistic represents a gap in health-care delivery.
To make a difference, a group of nine McMaster nursing students ̶ led by McMaster University Professor of Emeritus Dr. Basanti Majumdar ̶ collaborated with nursing students of Manipal University, India to organize an international conference this January in India on the impact of global issues on women and children.
Scholars from over 15 different nations attended and presented their research on topics such as violence, disaster prevention, globalization, workplace harassment, mental health, and biological health issues.
Raihana Ludin, a McMaster nursing graduate, delivered a presentation on training first responders to aid in labour and delivery in Afghanistan. When asked what she gained from attending this conference she stated, "Personally, it has made me think more on a national-international scale. What we learned will and has already impacted how we practice our profession."
For more information on the conference, please go to the conference website.