Nurses urge federal government to reverse cuts to refugee health care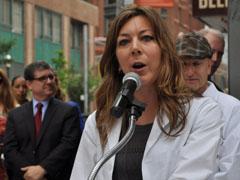 It's been nearly two years since the federal government made cuts to the Interim Federal Health Program (IFHP), denying refugees in Canada access to primary health care. Just as registered nurses predicted, evidence shows this "cost-saving" move has been harmful to both the health of refugees and to the province's bottom line.
A report by Toronto's Hospital for Sick Children found that since the July 2012 cuts, the admission rates in emergency rooms for refugee children doubled to 12 per cent. Not only is this harming the health of refugees, it's also making our health-care system less efficient by forcing families to visit emergency rooms when they are denied primary care.
RNAO is again asking you to speak out, and demand the Canadian government reverse these dangerous IFHP cuts. We released an action alert earlier in the month, and nearly 700 people have signed so far. A number of RNs also participated in events throughout the province for the National Day of Action against refugee health cuts on June 16. If you haven't already, please sign the action alert to keep the pressure on. Together, we will ensure that all Canadian residents have equal access to health care, their basic human right.
For a photo gallery from the event, visit RNAO's Facebook page.