Nurses tackle chronic disease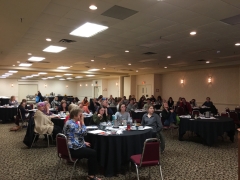 Shedding light on RNAO's best practice guidelines, RNAO's Region 2 hosted a BPG workshop on Nov. 2 in Woodstock to provide information about chronic disease.
With 60 nurses in attendance, the event highlighted some of RNAO's most popular BPGs: Delirium, dementia and depression in older adults; Strategies to support self management in chronic conditions; and Reducing foot complications for people with diabetes.
"The event was very successful and will hopefully be the first of more Region 2 BPG events to come," says Catherine Walsh, president of RNAO's Perth Chapter.
If you would like to tell us about your region/chapter or interest group events and achievements, please email Editorial Assistant Victoria Alarcon at valarcon@RNAO.ca.