Nominate registered nurses and NPs for a Nightingale Award by March 19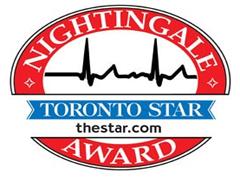 Nursing Week is just around the corner, so let's celebrate by acknowledging an outstanding RN or NP. The Toronto Star is seeking nominations for its 13th-annual Nightingale Award.
Every year, The Star recognizes a dedicated nurse who honours the legacy of Florence Nightingale through their contributions to the health of their community. Readers are encouraged to fill out a nomination form including a brief explanation of how the nurse made a difference over the past year. Make sure and nominate a deserving colleague.
Nominations are due by March 19, 2014.
Last year's award went to Toronto SickKids nurse practitioner Charis Kelly. The 2014 winner will be selected by a panel of representatives from The Star and the Ontario nursing community, and will be featured in The Star's special section about Nursing Week.
Visit The Star's website for the nomination form and more information about the awards.