A new online journal, Diabetic Foot Canada has launched!
The Canadian Association of Wound Care and the Registered Nurses' Association of Ontario are pleased to announce that Diabetic Foot Canada is now available online at www.diabeticfootcanadajournal.com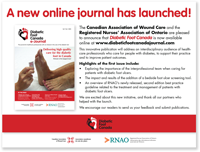 This innovative publication will address an interdisciplinary audience of health-care professionals who care for people with diabetes, to support their practice
and to improve patient outcomes.
Highlights of the first issue include:
Exploring the importance of the interprofessional team when caring for patients with diabetic foot ulcers.
The impact and results of the addition of a bedside foot ulcer screening tool.
An overview of RNAO's newly released, second edition best practice guideline related to the treatment and management of patients with diabetic foot ulcers.
We are excited about this new initiative, and thank all our partners who helped with the launch.
We encourage our readers to send us your feedback and submit publications.
Related:
Diabetic Foot Canada Journal
RNAO BPG - Assessment and Management of Foot Ulcers for People with Diabetes
RNAO BPG - Reducing Foot Complications for People with Diabetes
Diabetes Foot: Risk Assessment Education Program
RNAO Council of the Federation (CoF) Webinar
RNAO and CAWC join forces to produce quarterly Diabetic Foot Canada Journal, helping to aid in the national eradication of diabetic foot ulcers