New IABPG director announced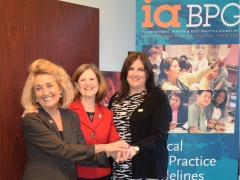 The director of RNAO's International Affairs and Best Practice Guidelines (IABPG) has announced her retirement. Dr. Irmajean Bajnok oversaw the BPG program for 10 years during her 16 years with the association.
"It has been a joy and privilege to work with Dr. Bajnok and witness the strength of her leadership in action," says Dr. Doris Grinspun, RNAO's CEO and the founder of the BPG program. "Throughout her long and rich career, she has generously given her expertise and wisdom to nursing and to RNAO."
Bajnok passed the reins over to Dr. Valerie Grdisa, a registered nurse who brings more than 25 years of knowledge and experience in clinical practice, research, policy, nursing education and senior management.
Grdisa, who joined the RNAO team on Nov. 10, has already begun working with staff to plan the next steps for the IABPG Centre and ensure nursing continues to deliver high quality care.
"I have known Dr. Grdisa for many years and her work is impressive," says Grinspun. "Her expertise in evidence-based practice and policy from health service organizations and at the government level will help us bring the program to its next phase of growth, especially as we expand to work with governments all over the world."
For more information, please read our media release.