New Care Transitions BPG released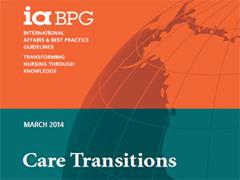 Transitioning through the health-care system can be traumatic for both patients and their families, so RNAO has developed a brand new guideline to ensure no patients fall through the cracks.
RNAO iaBPG is pleased to announce the release of our new Care Transitions clinical best practice guideline (BPG) .
The recommendations in Care Transitions will help health-care professionals learn the core competencies and concepts to facilitate safe and effective care transitions, including the best practices to support the client, their family and caregivers through transitions in care and in any environment across all health-care and community settings.
This new guideline will be helpful to nurses working in clinical setting as well as in administration, and education. It is available online.
Attend the launch of the Care Transitions BPG by signing up for a free webinar.