New BPG addresses growing problem of childhood obesity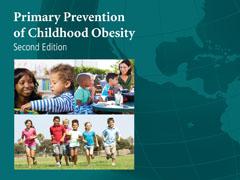 The rate of childhood obesity has doubled in the last 25 years. Today, nearly one third of Canadian children ages 5 to 17 are overweight or obese. To help combat this public health crisis, RNAO has developed updated recommendations to prevent childhood obesity.
The second edition Primary Prevention of Childhood Obesity best practice guideline (BPG) was released this month at a joint RNAO and Toronto Public Health media conference. The updated guideline provides strategies to establish better child health earlier, and explores the roles community and government can play in keeping children healthy.
Toronto Public Health's Chief Nursing Officer Carol Timmings and Lamp Community Health Centre's Lorraine Telford led the BPG's panel, and both provided their expertise to the media in the wake of this new guideline. Timmings appeared on CBC's The National, while Telford was a guest on Global TV's The Morning Show.
Both pointed out the need for a comprehensive approach to address childhood obesity, including changing environmental factors that encourage sedentary lifestyles and increased consumption of unhealthy snacks.
The full Primary Prevention of Childhood Obesity guideline is available online.