Minister of Health announces 75 new NPs in LTC as RNs visit Queen's Park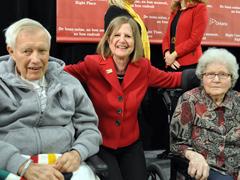 Ontario long-term care homes will be getting an additional dose of expertise thanks to a new initiative from the Ministry of Health. The province recently announced funding to add nurse practitioners (NP) to 75 long-term care homes over the next three years.
Health Minister Deb Matthews unveiled the plan to 150 RNs, NPs and nursing students at RNAO's 14th Day at Queen's Park event Feb. 27, receiving a standing ovation. RNAO has long advocated for bringing highly-trained NPs into long-term care homes, saying it will improve the level of care for seniors. Adding NPs will reduce unnecessary transfers to hospital emergency rooms, which is stressful on residents and their families, RNAO says.
"This is a wise government investment. Nurse practitioners will advance the timeliness and quality of care for residents in long-term care homes, improving their safety and quality of life and providing peace of mind to families and staff," says RNAO CEO Doris Grinspun.
Long-term care homes can apply for funding through the Ministry of Health. Funding will be made available for 15 nurse practitioners this year, 30 in 2015 and 30 more in 2016.
More information is available on the province's website and in RNAO's media release, and check out a complete wrap up of RNAO's 14th Day at Queen's Park.