Mental health nurses raise awareness about barriers to psychotherapy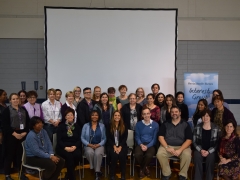 Working towards improving the mental health and well-being of individuals, RNAO's Mental Health Nursing Interest Group (MHNIG) held its annual general meeting on Nov. 4 to speak about some of the most pressing issues affecting mental health nurses today.
At the Centre for Addiction and Mental Health, MHNIG heard from presenters about addiction nursing competencies, intramuscular injections and forensic mental health nursing.
In addition, RNAO's Director of Nursing & Health Policy Tim Lenartowych spoke about the current barriers for nurses to perform psychotherapy and what RNAO is doing to improve access.
After the Council of the College of Nurses of Ontario (CNO) decided that RNs and RPNs require an order to perform the controlled act of psychotherapy, RNAO urged CNO to establish an initiation regulation for RNs who are appropriately educated in psychotherapy and to ensure that prior education is recognized.
"It does not make sense to limit the public's access to vital mental health services when nurses already have countless years of experience practising psychotherapy and have often done so without an order," said RNAO in its letter to CNO.
To learn more about RNAO's position on psychotherapy, please read our letter.