Many at risk without safe and affordable housing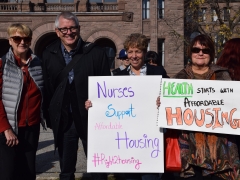 With winter fast approaching and many still without a home in Canada, RNAO is urging Prime Minister Justin Trudeau, Premier Kathleen Wynne and other elected representatives to take action now for safe and affordable housing.
Nearly 240 households in North Caribou (Weagamow) Lake First Nations are still without clean water or proper sewage disposal. And nearly 90 communities in Ontario are under boil water advisories.
On Nov. 18, RNAO along with community members participated in the National Housing Day of Action at Queen's Park in Toronto, calling for a guarantee that everyone have the right to safe and affordable housing and to have one per cent of the provincial budget dedicated to creating new affordable housing stock.
This investment can also be used to address the backlog of existing affordable housing units in need of repair.