It's Pride season!
Over the last few weeks we've seen the results of years of efforts to secure rights for some of the most marginalized of the Lesbian, Gay, Bi-sexual, Transgender (LGBT) community: trans people and LGBT youth.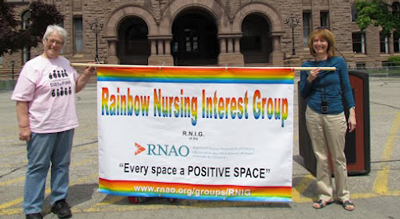 MPPs from all parties voted for Bill 33, Toby's Act. Toby's Act will ensure that every person in Ontario will have the right to equal treatment without discrimination and harassment because of gender identity or gender expression.
Also, we saw Bill 13, An Act to amend the Educational Act with respect to bullying and other matters (or Accepting Schools Act, 2012) and Bill 14, an Act to designate Bullying Awareness and Prevention Week in Schools and to provide for bullying prevention curricula, policies and administrative accountability in schools (or Anti-Bullying Act, 2012) come to the forefront. Bill 13 dealing with explicit protections for students' rights to a Gay-Straight Alliance.
Submission on Bill 33, Toby's Act
Submission on Bill 13
Position Statement: Respecting Sexual Orientation and Gender Identity
Pride Events in Ontario
*not an exhaustive list, check with your community for events near you