Improving access to medical assistance in dying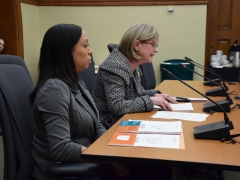 RNs and NPs are leaders in the design and delivery of end-of-life care.
To continue our leadership, RNAO CEO Doris Grinspun and nursing policy analyst Cheryl LaRonde-Ogilvie presented to the Standing Committee on Finance and Economic Affairs regarding amendments to Bill 84, Medical Assistance in Dying Statute Law Amendment Act on March 23.
During the presentation, Grinspun and LaRonde-Ogilvie proposed three recommendations that should be included in Bill 84.
Include RNs in the language of the bill to protect their participation in aiding a nurse practitioner (NP) or physician to provide a person with medical assistance in dying (MAID).
Give NPs the authority to prescribe all controlled substances in accordance with federal regulations to ensure access to MAID.
While RNAO respects the rights of health professionals to conscientious objection, the duty to refer must be included for NPs and physicians so patients who want these services can access them.
More than 600 respondents have already signed our action alert. Please add your support by signing and sharing the action alert today.
For more information about RNAO's response to Bill 84, please read our speaking notes.